Okay, time to highlight the latest Herculoids news and
WTF? Has it really been over A YEAR AND A HALF since my last post here???
Well, if I have any readers left - if they haven't all left in disgust at the (mistaken) idea that I've forgotten about this blog - then maybe he or she will be interested in the following news:
Hanna-Barbera Space Stars
is finally coming to DVD!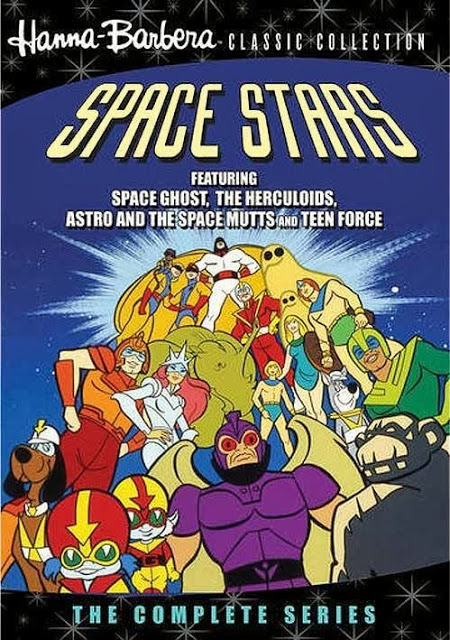 In 1981, in the wake of the success of the sci-fi and space-fantasy films of the late 1970s like
Star Wars
and
Close Encounters of the Third Kind
, Hanna-Barbera decided to dust off their own SF* entries,
Space Ghost
and
The Herculoids
, creating new episodes for a new generation of viewers. To round out a new hour-long show, they added two new creations:
The Teen Force
and
Astro and the Space Mutts
(featuring the canine co-star of
The Jetsons
(!))
At the time of
Space Stars
' run, I'd lost interest in Saturday morning TV (and was working - still am - a job that required me to work most Saturdays anyway), and so didn't catch any of these shows in their first (and only?) run. Heck, I wasn't even aware this show existed, or that they'd produced new
Herculoids
episodes of it, until years later.
But rest assured, I will be ordering this from
Warner Archive
, and once I've had a chance to devour it, will be posting my reactions to it. (And I'll be adding the new Herculoids episodes to the episode summaries - which I do plan to get back to one of these years!
*in this case, SF could stand for either "science fiction" or "space fantasy"